ABOUT US
Pole Emporium is a family business based on the South Coast in Brighton, owned and run by Colleen Budd.
Colleen says :
"I was always into fitness but never really had the guts to try out pole. Then my best friend emigrated to New Zealand and my dad was diagnosed with a terminal illness, and that pushed me into taking my first class. I've never looked back!"
"I began doing pole as a hobby during a period of big changes, and fell in love with the confidence boost it gave me. I then branched out into selling clothes and pole accessories which were otherwise only available in the States."
"But pole has given me a lot more than a business. It's taught me a great deal. I have discovered that I am capable of amazing things – I never realised my body could bend the way it does! It's made me so much more confident and I've become stronger than I ever thought possible."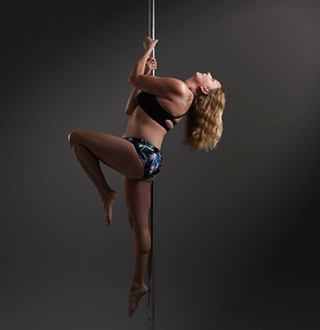 WHAT MAKES US DIFFERENT?
We offer our customers the chance to not only shop with us on line but also in our store which is located in a separate property behind some residential properties.
With ample FREE on street parking and the chance to try before you buy.
Operating on an appointment only basis 7 days a week we cater to suit everyones needs.
With goods from well known brands such as Cleo The Hurricane, Creatures Of XIX, Bandurska, Gale and Bad Kitty you will be spoilt for choice!
To make your appointment, call us now on 07982 637255 or email us.
THE UK's PREMIER SUPPLIER OF POLE DANCE CLOTHING, EQUIPMENT AND ACCESSORIES