Welcome to the Miss C bespoke service for your special costume requirements. If you have a photo shoot or a competition coming up and need something unique and super special this is the service for you!
Pole Emporium have teamed up with the amazing Chrissie Nicolson-Wild of Miss C to bring you your very own piece of couture.
Chrissie has been a professional seamstress for over 20 years so you know that you and your design/ideas are safe and very capable hands.
Not only has she worked on designing bespoke wedding dresses but also special crystallised Bikinis amongst other things.
Bring your creations to life now!
Message us now colleen@poleemporium.co.uk for further information or to book your private consultation.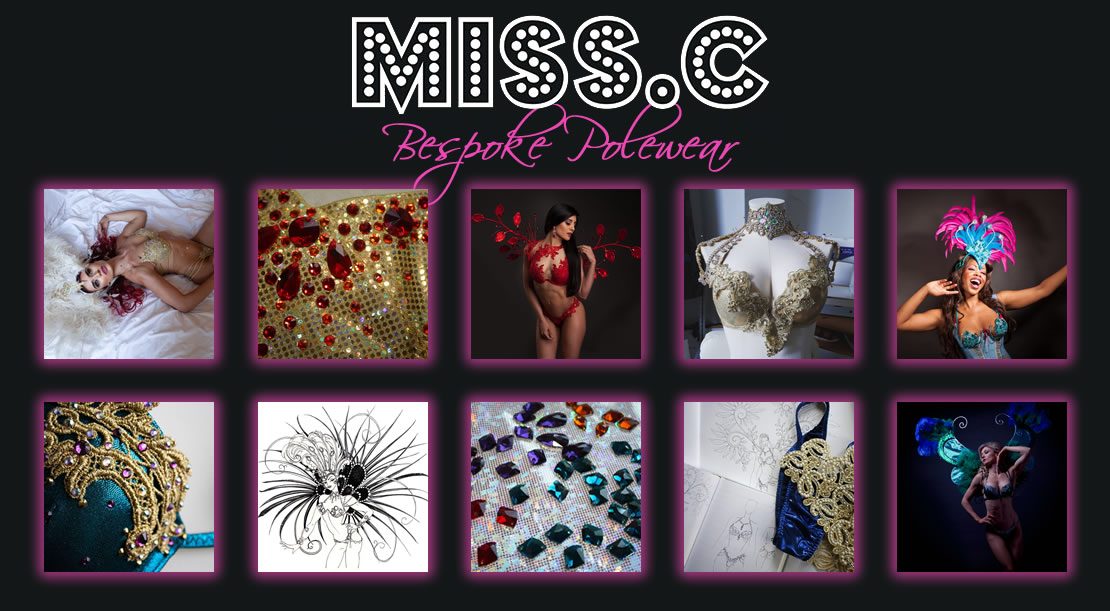 I have been a professional seamstress for twenty years. I grew up drawing ladies in pretty dresses on the kitchen table, and after finishing my art degree I started making my own clothes. What started as a hobby grew up into a passionate fascination with costume design, experimentation and construction. I love being able to bring an idea from the page on my sketchbook to a realised costume. It really makes me tick!
Early in my career I cut my chops making corsets, lingerie and wedding dresses before arriving in the realm of stage costume. My unconventional self education has allowed me to experiment and study many forms of technical construction with a huge variety of materials and this is the process that I love.... working closely with each client to bring their vision to life.
I love creating one off costumes for people who have a vision , immaculate fitting comes as standard. Whether it is a crystal encrusted bikini, a feather showgirl headdress or a pole costume you need I take in all your influences: movement, music, film, fashion, art....I blend it all and come up with a unique costume. When you walk out on stage I want you to feel like the best version of yourself.
It is very hard to deliver a quote without knowing the full spec of the costume so here I provide the most basic guide price as a starting idea. The more complex and decorated you would like your costume the more expensive it will tend to be. The price includes one fitting and one design. If you decide you want to change the design/decoration after signing off the design you will have additional charges to pay.
Guide prices

• Bespoke costume with no crystals from £120
• Bespoke costume with crystals from £200
Lead time for a costume is normally 4-6 weeks, but it is wise to order and pay your deposit as much in advance as is possible. In the busiest months (March, April, August, September) you may need to order your costume up to 8 weeks in advance.
Deposits and Payments
Initial Deposit for a bespoke garment is half up front, half upon completion. The deposit is non refundable once placed except under exceptional circumstances. The costume will not be sent out until full payment has been made.
Measurements and Fitting
In-house measuring and fitting is required for total accuracy. Whilst all effort will be made to ensure your costume is beautifully fitted Miss C does not take any responsibility for the fit of the final garment in the event of inaccurate measurements being supplied or the lack of personal fittings. In this event you may need to have the garment altered at your own cost.
Miss C policies
I very strongly disagree with the idea of fast fashion and operate a low waste strategy. I only buy and use materials required for each commission and I resource fabrics and materials from UK companies as much as possible. I love that working bespoke allows me to deliver a high quality product with great attention to detail.
When I am not at task on some kind of work related endeavour I relax by watching horror and sci-fi films and baking with my young son.
THE UK's PREMIER SUPPLIER OF POLE DANCE CLOTHING, EQUIPMENT AND ACCESSORIES